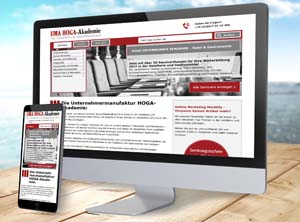 The customer is well established consultancy for hotels and restaurants that holds many seminars relevant to those businesses.
With this fully responsive and mobile friendly site, done with Drupal 8, they can enter and manage information about their seminars themselves, cross-link the seminars, show and manage the availability at the seminar-locations;  end-users can then book a seminar, as well as download various informational material related to hotels and restaurant.   It also integrates articles from their blog site though an RSS feed.
One special aspect that was very important for this customer is SEO.  Besides Drupal's normal SEO, which is already pretty good, this site features many SEO friendly features such as SEO evaluation tools and rich snippets integration (schema.org).  
Rich Snippets help display further information (for example, seminar dates and locations) in Google's search results, like so: