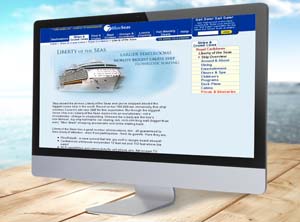 This was a large site (7blueseas.com) that let you book any cabin on any cruise and cruiseline. It was built quite some time ago, and today is no longer in existence.
I created an online booking engine that was integrated through a web-service to 10 major cruise-lines, such as Royal Caribbean, Carnival, Disney, Norwegian, etc.
The software determined real-time cabin availability and pricing for every cabin of every ship of every cruse-line, and had a multi-page booking system that ended with a credit-card transaction.
I was the software team lead, and managed an offshore developer team in Shenzhen, China.
The website featured every ship and every cruise of each cruise line.
It was implemented using MS technologies such as ASP and .Net.